Intercom Install & Repair
Back To Our Services
Excellent durability and reliability are the two wings of our driveway gate company in Edmonds, which is the best in the city serving you with all your needs. All it takes is one single phone call from you to our driveway gate service providers to attend to your needs. We excel in all of the services that we provide. Our driveway gate/contractor will come to your location, give you a free estimate and start the work immediately if you want us to.
Residential Gate Services & Gate Intercom Installation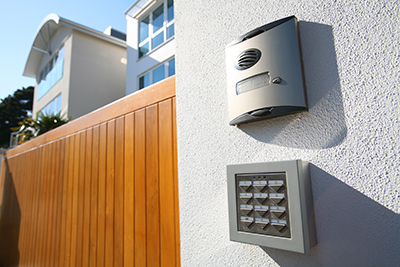 Everyone owning a gate can count on our first class company for services. We are masters in electric gate repair, maintenance, and inspections. Our superb technicians know how to replace the entire existing gate, related parts, and are exceptional gate installers. They provide exquisite maintenance service and confirm the gate moves properly and the entire system is safe. Safety is the main reason our renowned team is so cautious and thorough. Despite our long experience, consistently maintain and inspect, troubleshoot, and install gates with great care. We proudly employ a friendly staff, which can be useful when people have questions or want to learn more about services. We make the life of home gate owners easy by being there on time and offering full services, excellent new gate installation, and intercom repair in an excellent manner.
Whether you have a residential home that has a driveway gate or you have a commercial business that has a driveway gate it is always good to have a phone entry systems/intercom installed. This will go along way as far as safety goes. If the driveway gate is the only entrance then a visitor will have to stop and call into the house before they are gained entrance. There are different kinds of this phone entry systems/intercom depending on the set up that you need it for. For example if it is a commercial business, a gated community or a residential home.
Residential telephone entry systems come in many different styles. This residential telephone entry system will need to be wired to your home phone. When a visitor pushes the call button at the gate it will call the phones in the house. Then the owner of the phone will have to press buttons on the keypad to open the gate for the visitor to come in. The telephone entry system will allow different people to have codes so they can open the door as they come in. These same systems can be used with commercial gates also. There is more then one type of these telephone entry systems. Give us a call at our driveway gate company in Edmonds and we will help you decide the best system for you.
There are also keypads telephone entry systems also come in many different styles. These will allow you to talk to the people who are at your gate so you can make sure of their identity before you open the gate. These intercom systems are great for residential and commercial businesses. You can also use the keypad to open the gate for yourself when you are coming home. We at our Phone Entry Systems/ Intercom Company can install any of these systems for you. We also carry many of these brands. Some of the brands that we carry are Elite, DoorKing and Linear. Call us today and let us set up an entry system for your driveway gate.
Our driveway gate company in Edmonds can do these services for you but we can also do so much more. We can repair any part of your fence or your gates. We can install any parts that have to do with these items. We also sell a variety of styles of wrought iron gates and fences among other kinds. Callour driveway gate company in the community of Edmonds and we will come right out and help you.